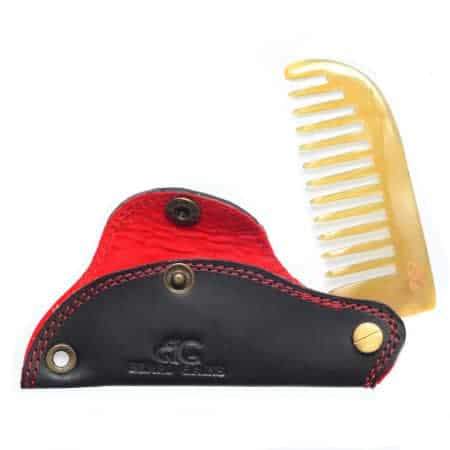 Leather Folding Beard Comb
---
Elegant pocket folding beard comb with unmatched quality and originality. Always providing options, you can either go with a light tan colored comb or dark gray to match your style.
--
This luxury hand-crafted folding comb took us 2 months to finalize and it shows! Awesome double stitched leather case we a flexible and sturdy horn comb attached to it, perfect for any man beard who wants to keep their beard on point with some swag points.
• Extra Strength: Nice shiny finish horn beard comb that's protected from nature's harmful elements such as water & humidity. Sturdy & flexible!
• Premium Leather: Thick and extra durable leather casing with elegant double stitching.
• Stainless Clasp: Easy open close clasp resistant to weather conditions.
• Compact: Easy folding allows manageable size for portability wherever you go. Fits in your pants pocket with ease.
• Key Chain Ready: Conveniently placed stainless steel key chain ring, never lose your keys and comb again!
---
Share this Product