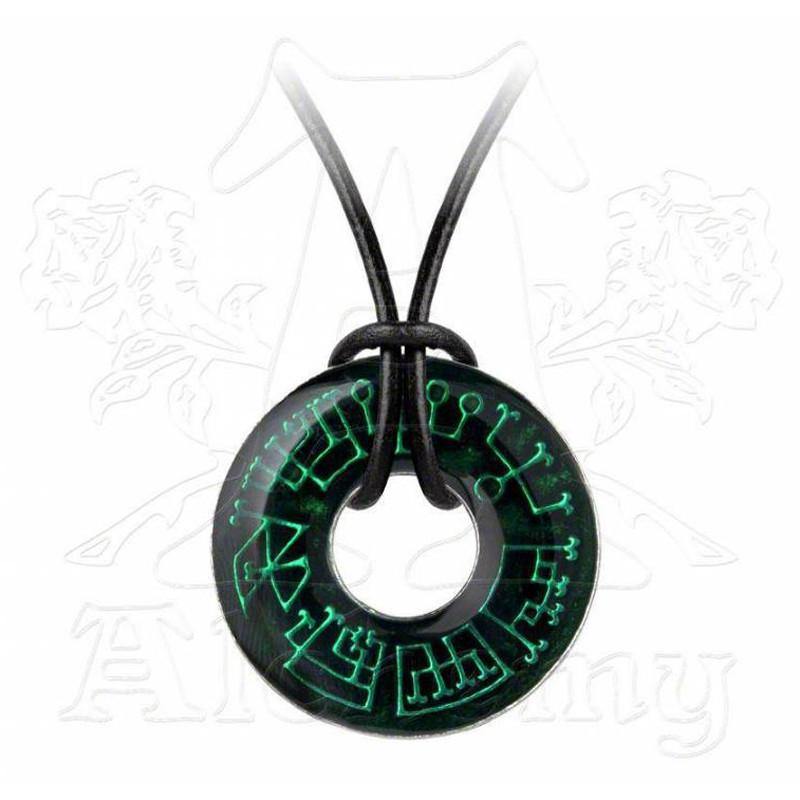 Angel Rune Ring Necklace, Alchemy Gothic
---
Alchemy Gothic Rune Ring Pendant Necklace

The seven planetary angels are depicted within the enamel of the pendant, corresponding with the reverse side inscribed with their respective names, planets and days.  This pendant measures ~1.34" x ~1.34" and 0.35" deep a leather cord with circle and bar closure, adjustable to 30"

Correspondences Inscribed on Front & Back of the Pendant:
| | | | |
| --- | --- | --- | --- |
| Angel | Day | Planet | Metal |
| Och | Monday | Sun | Gold |
| Phul | Tuesday | Moon | Silver |
| Phaleg | Wednesday | Mars | Iron |
| Ophiel | Thursday | Mercury | Quicksilver |
| Bethor | Friday | Jupiter | Tin |
| Hagith | Saturday | Venus | Copper |
| Arathron | Sunday | Saturn | Lead |
Handcrafted in the UK of lead-free, Fine English Pewter with green enamel.
Genuine Alchemy Product - Brand New with Alchemy Lifetime Guarantee

Typically ships in 1-2 business days from within the US.

ALCHEMY LIFETIME GUARANTEE
Alchemy guarantees all of their hand-crafted products to be made to the highest standards and of the finest materials, and will therefore repair or replace any purchased item suffering from defects or faulty workmanship, at any time, free of charge!
Guarantee and Returns Policy
Alchemy products are hand made to an unrivaled quality by Alchemy's own craftsmen. Therefore, they absolutely guarantee them against any defects or faulty workmanship and materials.

**please note that this does not include general wear and tear or damage caused by the user/owner. This would include such things as surface darkening, (or patination), which is a natural effect, or forced and over-bending of bangles and ear-wraps, etc, which must be done gently to avoid fracture.
Defective Alchemy products, whenever purchased, may be returned to Alchemy Customer Care for repair, replacement, or credit if no longer available.
---
Share this Product
---
More from this collection